VIRTUAL AND HYBRID EVENTS: A SHORT AND LONG-TERM RELATIONSHIP
You may be experiencing screen fatigue by now, thirsting for a top-up of the energy charge that happens naturally when colleagues bounce off each other's ideas and enthusiasm once in the same space. We acknowledge that face-to-face experiences are the most valuable – particularly for networking, motivation, incentives and rewards – but an element of virtual interaction is here to stay. In fact, it's critical in the near-term.
Ready for Evolution
Although passionate conference organisers, Calder was ready for this evolution due to our partnership with digital event platform pioneers Live Group. For many of our clients we have teamed up with them to deliver virtual events, coupling a live stream with real-time remote audience engagement – multi-region or multi-country – in fact, wherever the guest might be. With hybrid formats, a smaller gathering in a safe, live space plug into a wider group through live web streaming technology. We have connected speakers, experts, civil servants and ministers, replicating the benefits of quality face-to-face interaction – perhaps in the format of a panel session or even a fireside chat.
As organisations absorb new formats and encounter the possibilities, participants will feel less disenchanted when at their screens. We can ensure speakers are trained to be engaging in front of the camera. Clever tacks are employed to exchange delegates in lively dialogue before the event is scheduled, then continuing afterwards through surveys, Q&As, live chat and social media.
Evolution or Revolution?
Environmental concerns were always the driver behind digital events and the pandemic has just amplified the message. By illustration, we took the Climate Agency Summit into a digital space and connected a London audience with an international membership. This saved 22,800 miles of travel.
In addition to sustainability, there is far more in which to be positive, according to head of Live Group Toby Lewis who considers recent changes as revolution not evolution. His Events 2.0 concept, he believes, is events for all.
'Traditional event audiences can be split into: 1 those who love attending events 2 those who don't like attending events and 3 those who can be convinced either way. Events 2.0 is accessible, allowing you to cater for multiple personality types and learning behaviours.
He imagines the future will look like this:
'If you love events and want to shake hands, network and connect with a wide group of people, you can. If you are indifferent to large groups and wish to network at a smaller venue with a select audience, perhaps colleagues or friends, you can. If you find the thought of engaging with groups of any size uncomfortable and wish to engage in a controlled environment, you can do that too.
'All of the above can be achieved within the Events 2.0 format without a compromised experience for anybody.'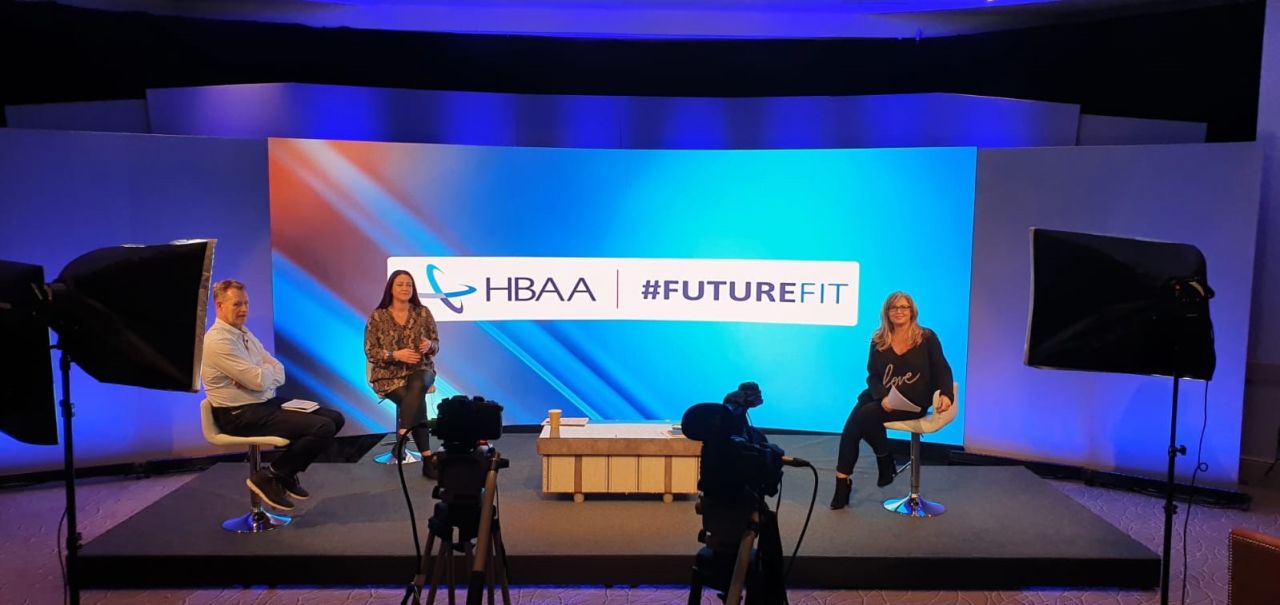 Economic, Easy Roll-Out
An alternative to cancelling conferences, Digital Event Platforms are proven, cost-effective and can be rapidly rolled-out to clients. Studio environments can be mobile, in London or other key cities nationwide or almost every venue in our network can be converted into a studio with ease.
Due to ongoing restrictions, we find more and more of our hotel partners are resourcefully adapting to use their valuable space for virtual events. Calder now acts as a signpost for clients, directing to the best partner and venue for the brief, booking the space and service. Here are a few partners now diversifying into virtual, alongside safe hospitality, but we would love to put you in the full picture if you contact our team:
Hilton EventReady – hybrid solutions now on global roll-out. This offering ensures members are now receiving training so they can work alongside hybrid event planners. Clients will be introduced to the 'hybrid-ready' hotels in the group and offered planning resources, together with re-imagined food and beverage solutions.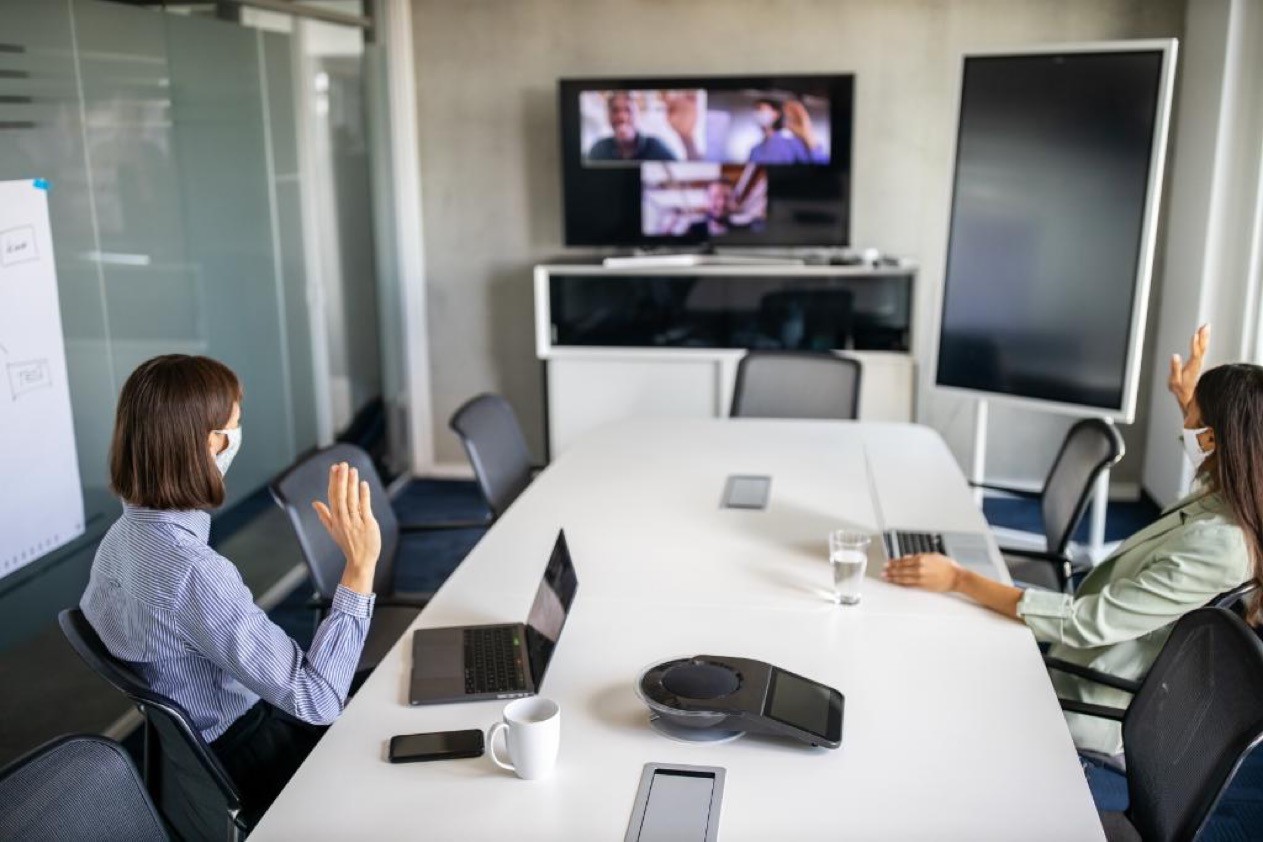 Marriott Hotels – are also underway with global trials. In the UK, JW Marriott Grosvenor House, London now offers hybrid half-day events packages with a dedicated bandwidth up to 10 MB.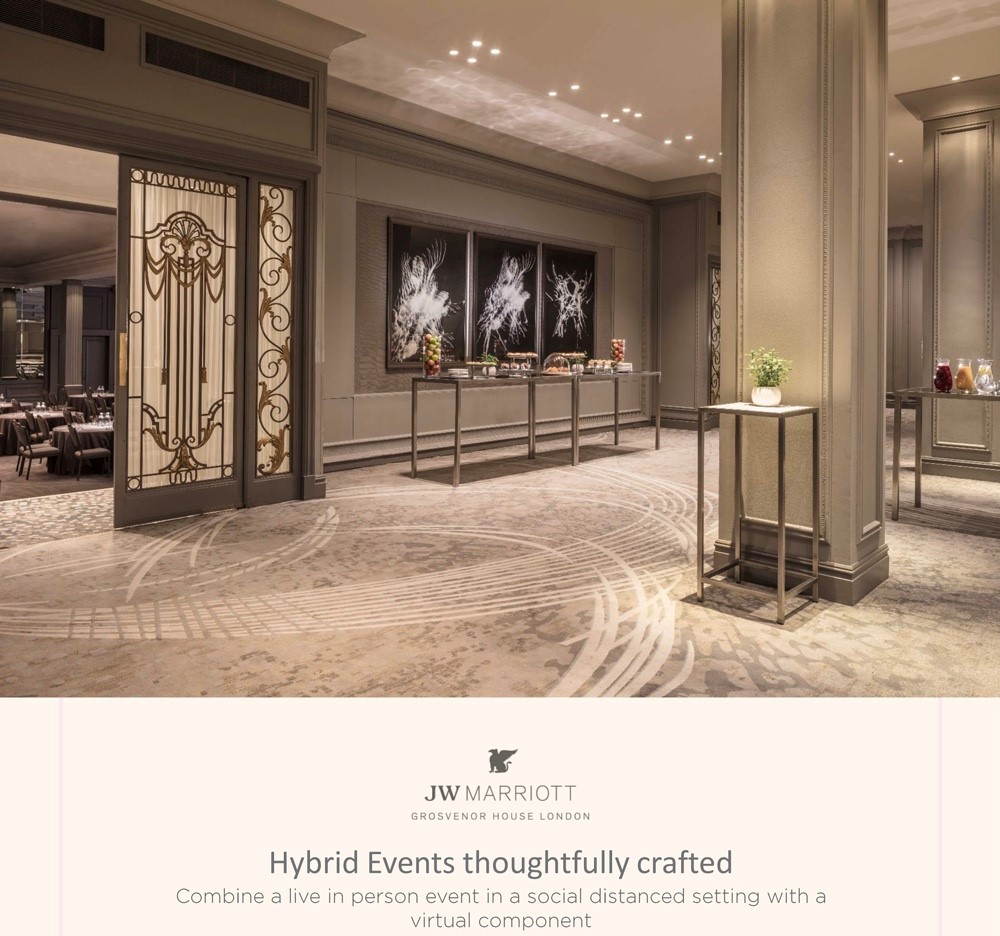 Millennium Hotels – hybrid packages are now available at Millennium Gloucester London Kensington Hotel, where expansive space to allow social distancing of in-person delegates couples with the technology to involve remote attendees.
The landscape is constantly and rapidly changing, so we expect more hybrid and virtual packages from more partners are in the pipeline. Please keep in touch with our team to discover all the new ways we can help to keep you connected, safely through these challenging months.