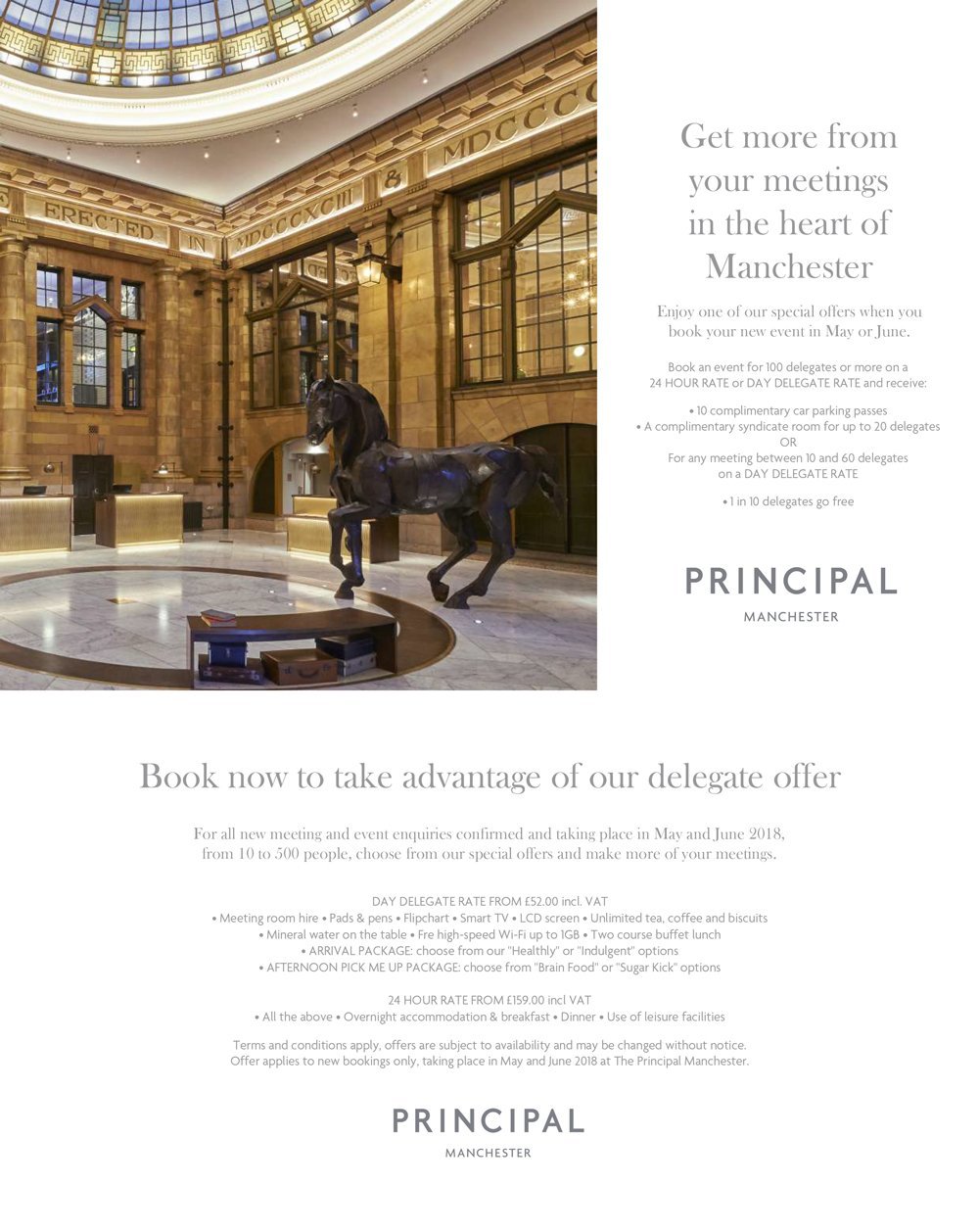 Principal Hotel Company Launches New Meetings and Events Offer
Principal Hotel Company, a collection of over 35 properties throughout the UK under the PRINCIPAL and De Vere brands, today announced it has launched a new meetings and events product, Smart Space.
The initiative will be rolled out across the portfolio in a phased approach and is comprised of nine service features which together have been designed to offer a highly responsive, personalised meetings and events service.
Smart Space's features cover everything from a live availability booking service to truly tech-savvy support, with up to 1GB super-fast Wi-Fi, interactive displays and an on-site team of friendly experts to help overcome any tech issues a client may face.
Whether it's a meeting for 10 in an executive boardroom at The Principal Manchester, or a training session for 60 at De Vere Grand Connaught Rooms, delegates will receive the same exceptional experience at every venue.
Tony Troy, Chief Executive Officer at Principal Hotel Company, commented: "We are delighted to launch Smart Space. A huge amount of work has been put in to creating our streamlined meeting and events offering, delivering a future fit service that ensures every experience with us is memorable. As well as ensuring the functional elements of any event are of the highest standards, Smart Space also ensures that our guests benefit from these new initiatives following a significant financial investment and refurbishment across the group.
"For example, a new menu of high quality, nutritional food has been introduced, in collaboration with Wendy Martinson OBE (also lead nutritionist for Great Britain's rowing team); we've introduced independent Burr & Co. coffee shop breakout areas and we have also enhanced our inspiring outdoor spaces, with high-speed outdoor Wi-Fi available up to 100m from the property, outdoor kitchens, sculptures and discovery trails amongst other things. This is all aimed at ensuring every client can easily tailor their meetings and events to maximise output."
Smart Space's nine service features promise ease of booking; inspirational meeting rooms – be that a bright and contemporary training space or an executive boardroom with nods to the property's heritage; a personal conference host; tech-savvy support; new Burr & Co. breakout areas; new nutritionally balanced delegate menus; the Principal Hotel Company's three existing rewards programmes – Applause Rewards, ShowTime Rewards and Trainers' Club; inspiring outdoor spaces and access to a team of specialists to help ensure delegates get moving and remain motivated throughout the day.
By partnering with Wendy Martinson OBE, the team has developed new conference menus and will now be able to offer nutritional values for each dish, a ground-breaking initiative for the industry. These new balanced menus are designed for those with a busy yet healthy lifestyle and to ensure delegates remain energised throughout the day. Wendy is also developing the Company's Burr & Co. offering, introducing a selection of artisan light bites and nutritionally balanced snacks.
Smart Space is already available at a number of flagship properties across the portfolio, including at De Vere Beaumont Estate, Berkshire, De Vere Latimer Estate, Chesham, Buckinghamshire, De Vere Wotton House, Surrey, De Vere Grand Connaught Rooms, Covent Garden, Principal Manchester, Principal York, Principal Edinburgh George Street and Principal Edinburgh Charlotte Square, and will be rolled out across further properties in the portfolio in the coming months.
The Principal Edinburgh Charlotte Square opens following multi-million pound investment and rebrand
Principal Hotel Company continues to create and shape its collection of city-centre hotels under the PRINCIPAL brand, as they announce the completion of a multi-million pound investment and full rebrand of the landmark Roxburghe Hotel in Edinburgh, Scotland.
The Roxburghe became The Principal Edinburgh Charlotte Square on 15th September 2017, following a phased refurbishment and elegant new look by interior architects Goddard Littlefair, alongside PRINCIPAL's in-house design team. The top-to-toe refurbishment of the 19th-century Georgian property highlights PRINCIPAL's continued confidence in the Edinburgh market, having recently renovated The Principal Edinburgh George Street in November 2016, formerly The George Hotel.
Rich in heritage and local charm, The Principal Edinburgh Charlotte Square has been carefully designed to meet the needs of today's modern traveller, incorporating unique features customary to PRINCIPAL hotels: vintage red post boxes in the lobby with post collected daily; a Corner Shop selling treats to stock the mini-bar at convenience shop prices; and retro, 7-series red phones in guest rooms which invite guests to dial 9 for an outside line and 0 for the 'everything else line', a single point of contact for all guest services. The five-storey hotel, first opened in 1848, will boast 199 bedrooms and suites, many of which enjoy views over Charlotte Square gardens.
As the team at The Principal Edinburgh Charlotte Square ramp up to opening in September, the following month will see the launch of BABA, a standalone, Eastern Mediterranean restaurant and bar that has been developed in partnership with chef Jonathan MacDonald and Daniel Spurr, the hugely successful team behind Ox and Finch in Glasgow.
PRINCIPAL's COO, David Taylor, said, 'It's been an incredible journey for the Principal family since our brand launch in November 2016. The hotel market in Edinburgh market is thriving and we are looking forward to opening our second hotel in the city. We believe that The Principal on Charlotte Square has a distinctive point of view, and with BABA we believe we're bringing something genuinely new to Edinburgh's thriving restaurant and bar scene – it's a restaurant that will appeal both to hotel guests and to Edinburgh locals.'
The Principal Edinburgh Charlotte Square launches on Monday 4th September 2017, and will be the fourth hotel to join the Principal brand, following Manchester, York and Edinburgh George Street. Later this year, The Principal London will open on Russell Square, following a £75 million restoration of the Grade II listed 'grande dame' hotel.
PRINCIPAL announces the opening of The Principal London
PRINCIPAL today announced the much-anticipated The Principal London will open in January 2018. The glamorous 334-room hotel will be the fifth to join the PRINCIPAL portfolio of 'urban lifestyle' hotels, part of the Principal Hotel Company, following the completion of a £70 million investment and full rebrand of the landmark property.
Formerly Hotel Russell; the Grade II* listed 'grande dame' building, which occupies the eastern flank of Russell Square, in Bloomsbury, has been restored to its former glory and will raise the bar for hotel accommodation, drinking, dining and events in what is London's most literary neighbourhood.
Renowned interior designers Tara Bernerd & Partners and Russell Sage Studio have created the striking contemporary interiors which pay homage to the building's illustrious history whilst providing stylish form and function for the modern traveller.
The Principal London has an exceptional meetings and events offer, with a magnificent Grade II listed ballroom and eight additional spaces, catering for groups of up to 450. The company's new Smart Space initiative will ensure that guests receive a highly responsive, personalised meetings and events service with nine service features covering everything from a live availability booking service to truly tech-savvy support, with up to 1GB super-fast Wi-Fi and an on-site team of friendly experts to help overcome any tech issues a client may face. Banqueting menus have been designed by Executive Chef Roger Olsson, formerly of The Dorchester, The Ritz and Pied a Terre.
The opening of The Principal London will create a hub not only for its guests, but also for Londoners who have a passion for great food, fabulous cocktails and memorable nights in the city. It will offer a variety of spaces for drinking, dining and events that will be distinct from each other and unique in their offering.
At the heart of the hotel will be the beautiful, restored Palm Court; a relaxed 'living room' and oasis in the city, which sits alongside the ballroom. The hotel's new restaurant, Neptune, is set to be an exciting addition to Bloomsbury's dining scene, created in partnership with three-time Bib Gourmand winner Brett Redman and stylist-turned-restaurateur Margaret Crow. Neptune fuses the informal flair of the duo's Borough Market institution Elliot's Cafe and The Richmond gastropub to create a 'Bloomsbury Salon' for the 21st-Century. Fitz's, named after the hotel's architect Charles Fitzroy Doll, who also designed the dining room on RMS Titanic, is a hedonistic cocktail bar that conjures the spirit of Jay Gatsby and the wit of Dorothy Parker. Finally, Burr & Co., coffeehouse by day and wine bar by night, will offer an independent, lively alternative to the nearby Brunswick Centre.
Paul Walters, General Manager at The Principal London, said: "It's hugely exciting to see the results of the hard work, as the team continues in the final stages of the restoration of this magnificent hotel. We're very much looking forward to welcoming guests to experience our stunning new look; The Principal London will be an exciting addition to the London scene and we have a fantastic offer for both leisure and business guests looking for a memorable experience in the city."
The opening of The Principal London will mark the newest offering from new high-end urban lifestyle hotel group, PRINCIPAL, with recent openings in Edinburgh, Manchester and York. The Principal collection has unveiled sensitive restorations of historic hotels, which have been remodelled and redefined. The group will continue to expand in Glasgow and Cardiff over the next year and plans to establish luxury landmark hotels in each major UK city.