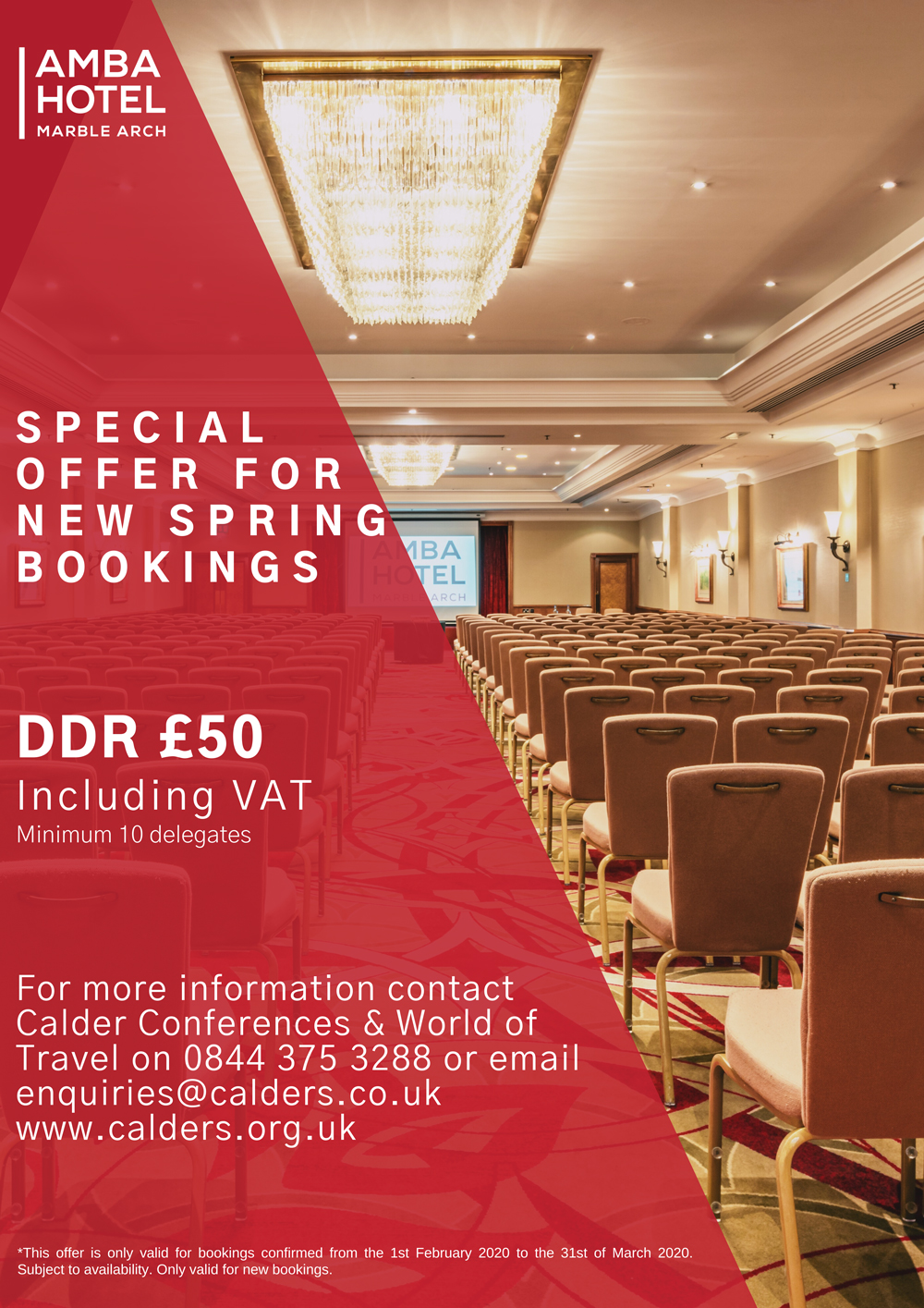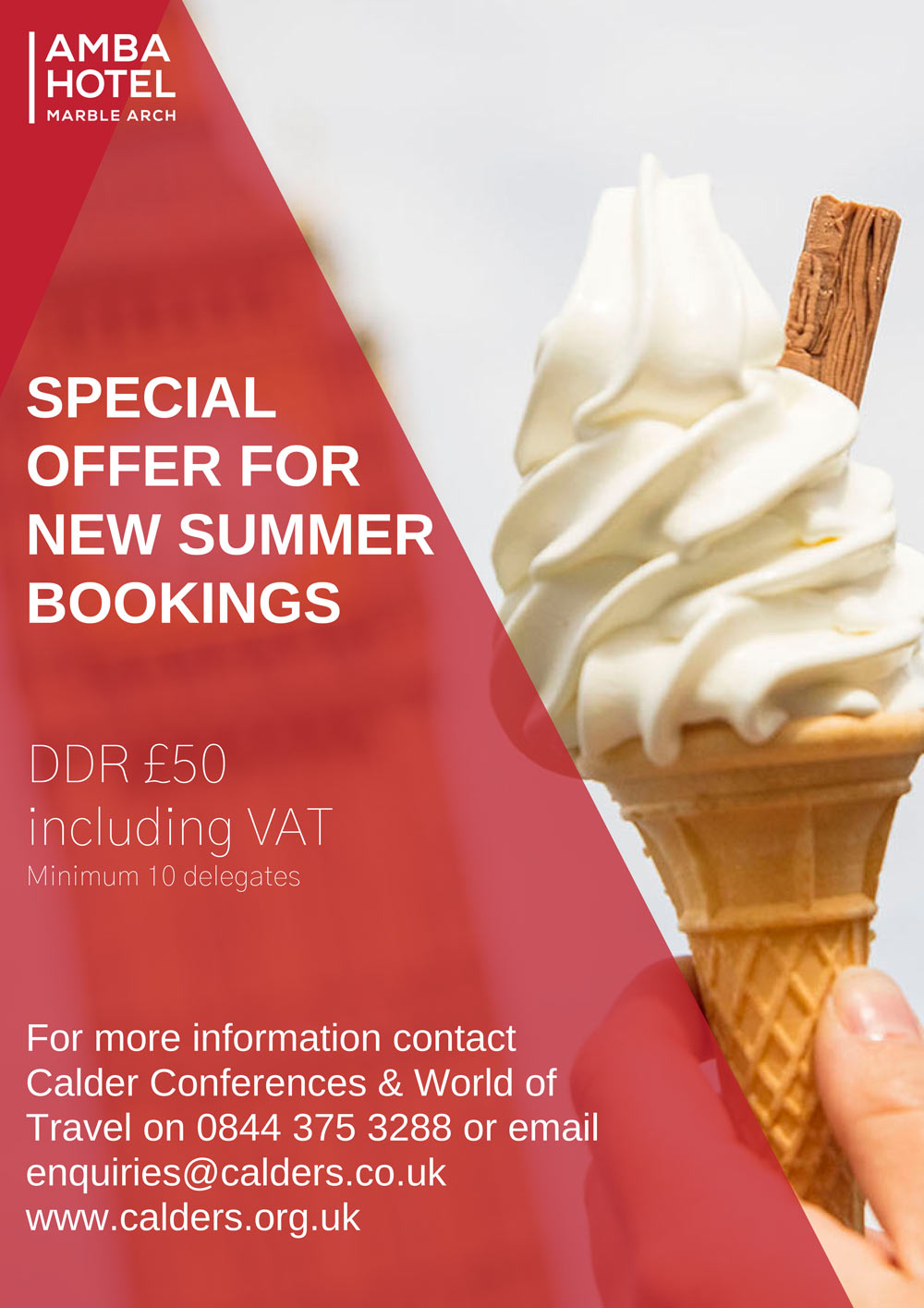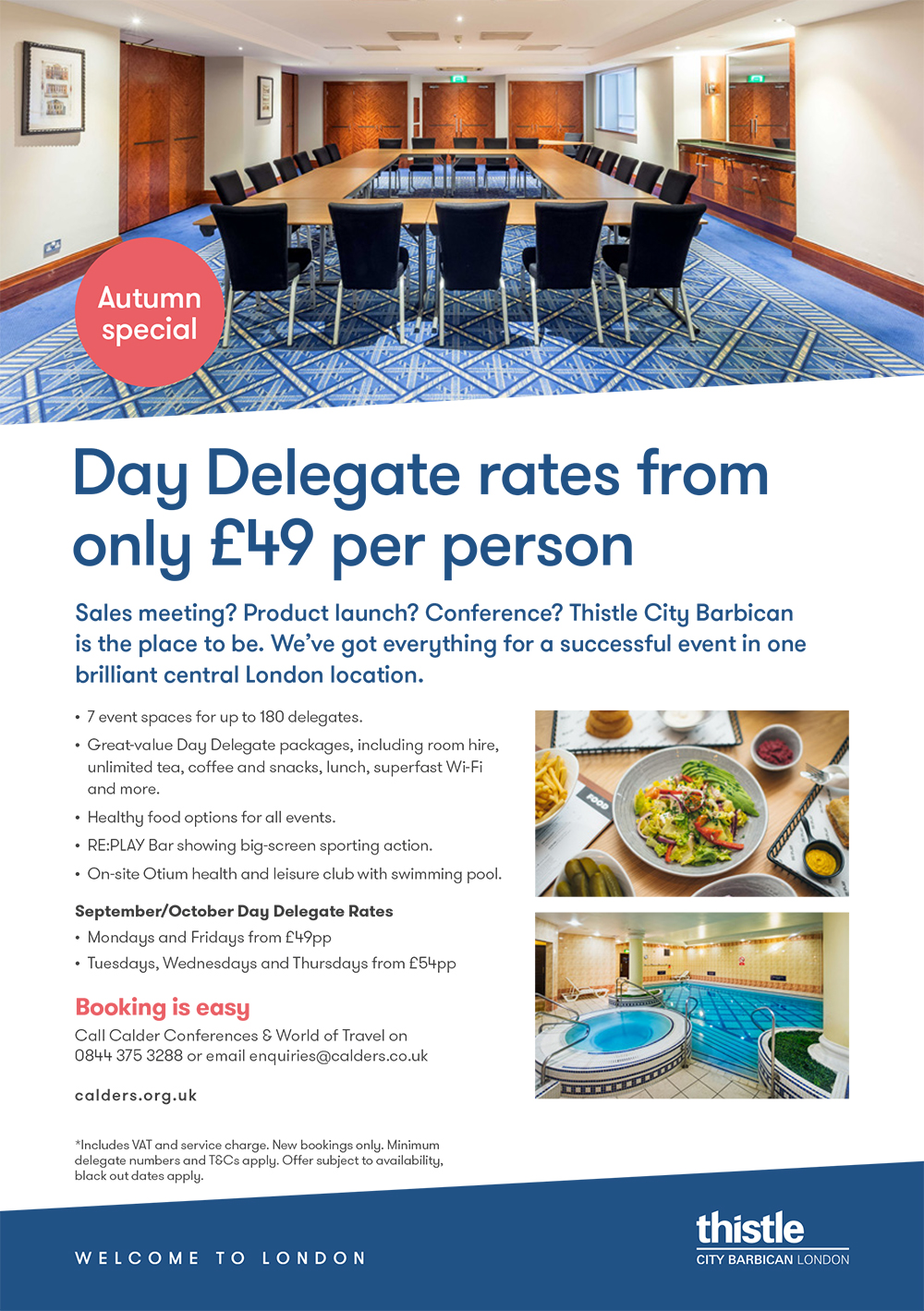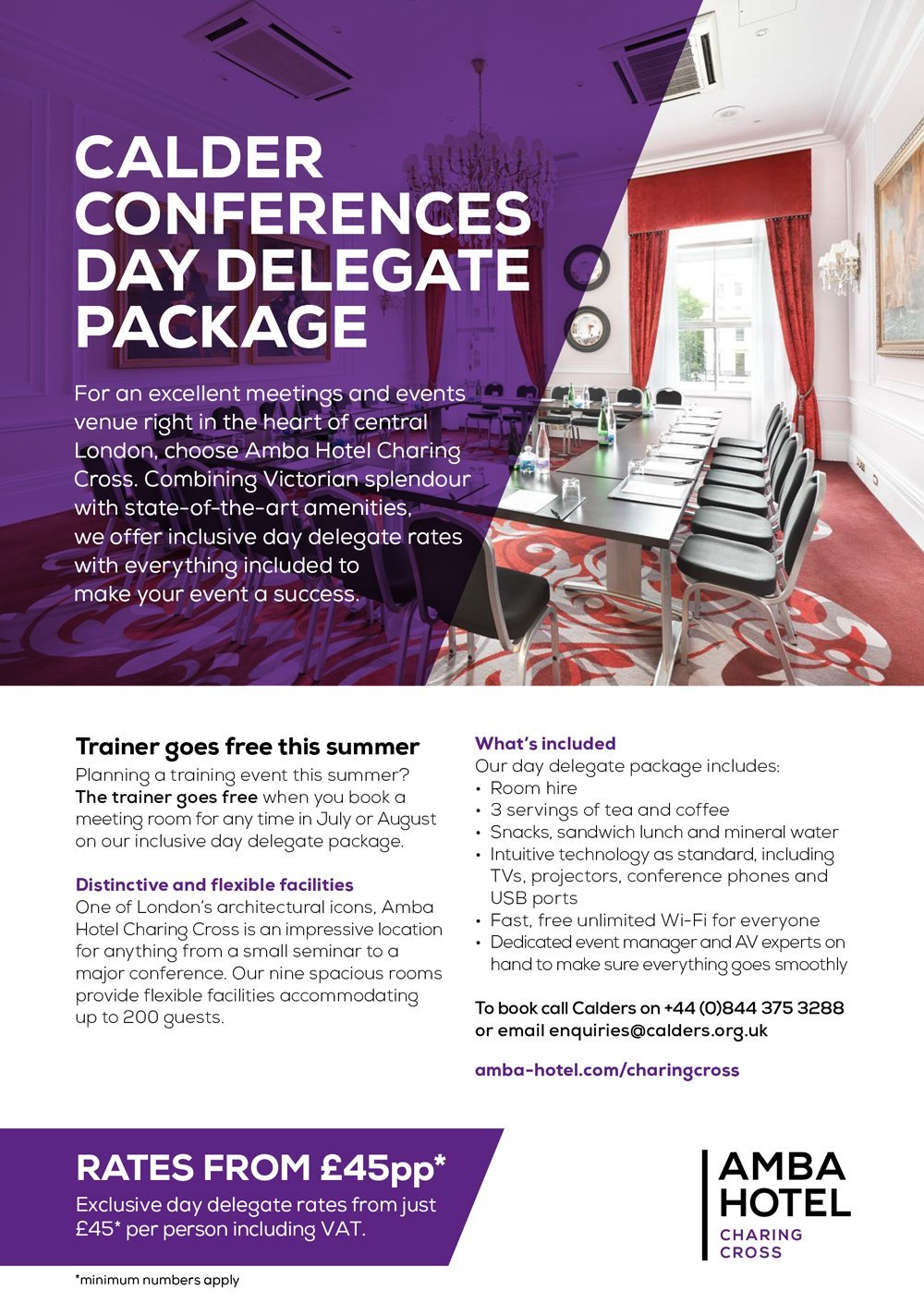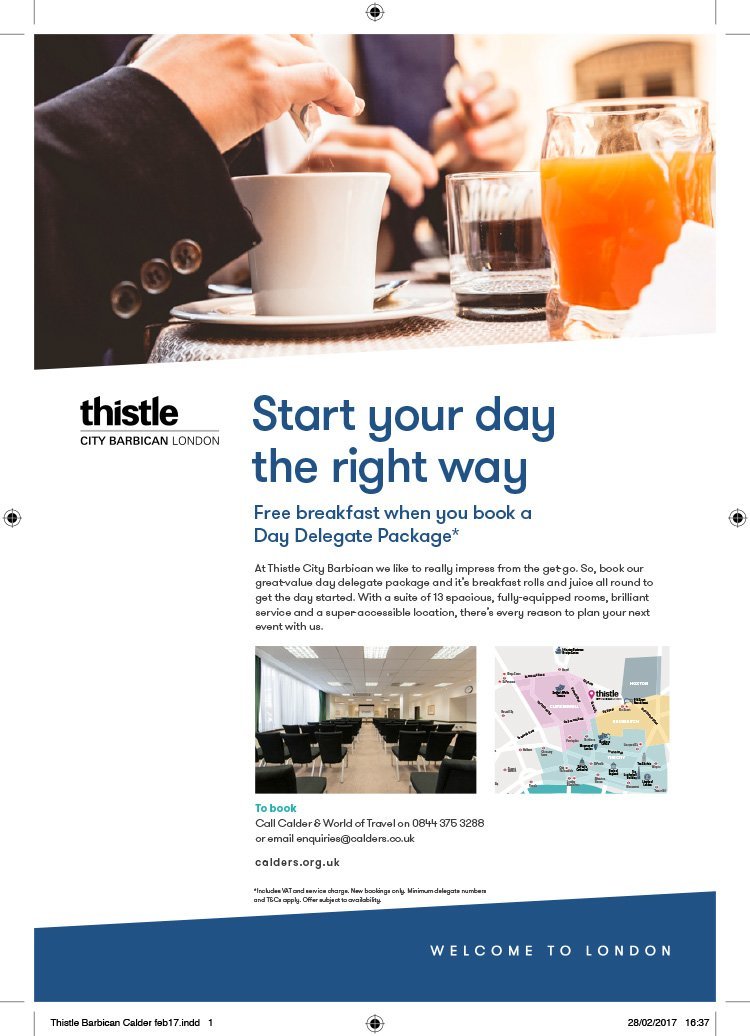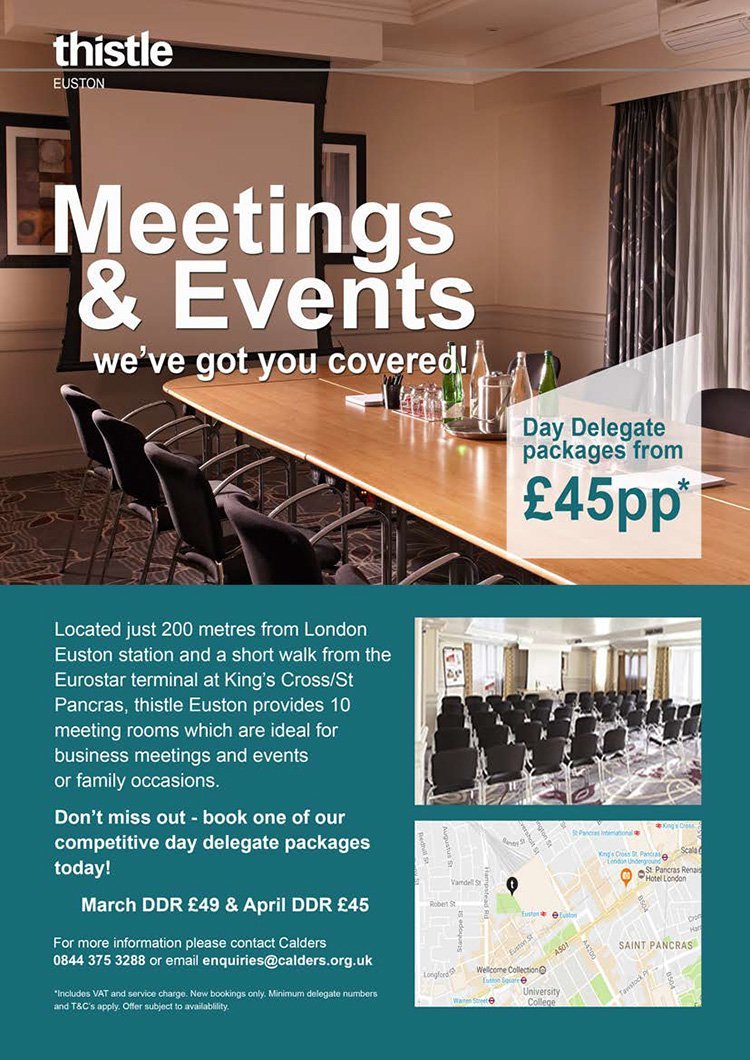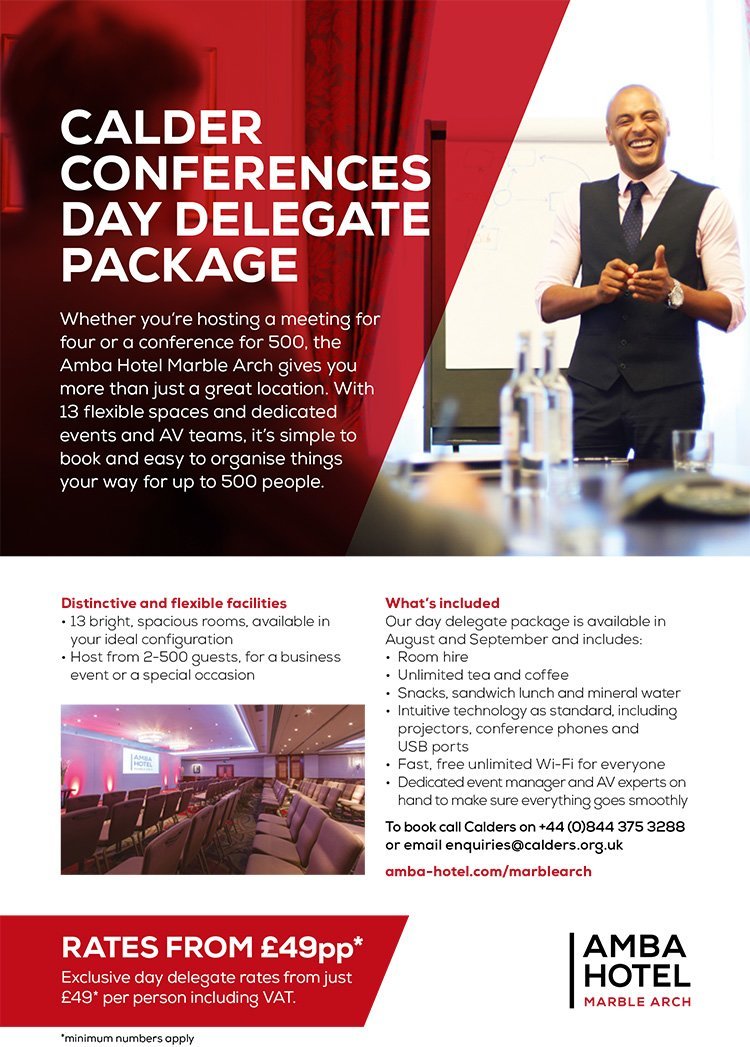 CALDER CONFERENCES DAY DELEGATE PACKAGE
For an excellent meetings and events venue right in the heart of central London, choose Amba Hotel Charing Cross. Combining Victorian splendour with state-of-the-art amenities, we offer inclusive day delegate rates with everything included to make your event a success.
Trainer goes free this summer
Planning a training event this summer?
The trainer goes free when you book a meeting room for any time in July or August on our inclusive day delegate package. Distinctive and flexible facilities One of London's architectural icons, Amba Hotel Charing Cross is an impressive location for anything from a small seminar to a major conference. Our nine spacious rooms provide flexible facilities accommodating up to 200 guests.
What's included
Our day delegate package includes:
Room hire
3 servings of tea and coffee
Snacks, sandwich lunch and mineral water
Intuitive technology as standard, including TVs, projectors, conference phones and USB ports
Fast, free unlimited Wi-Fi for everyone
Dedicated event manager and AV experts on hand to make sure everything goes smoothly
RATES FROM £50pp*
Exclusive day delegate rates from just
£50* per person including VAT.
*minimum numbers apply

Fixed Rate February for Meetings and Events
Guaranteed low Day Delegate Rates for all new enquiries: £62* (Tuesday to Thursday), £50* (Friday to Monday and 16-18 February).
Right in the heart of London's West End, just a few steps from Oxford Street, Amba Hotel Marble Arch is the ideal venue for anything from a small seminar to a major conference.
12 meeting spaces for up to 500 delegates, equipped with the latest technology.
Free, superfast Wi-Fi.
Rates include room hire, unlimited tea/coffee with three servings of snacks, lunch and mineral water.
Dedicated Event Manager to ensure everything runs smoothly.
*Subject to availability, Minimum numbers apply
AMBA HOTEL CHARING CROSS ENTERS TOP 5 FOR LONDON HOTELS ON TRIPADVISOR
Amba Hotel Charing Cross, which opened it's doors last October, has climbed over 50 places since its launch to rank 4th out of 1,064 London hotels on customer-ratings website TripAdvisor.
With 239 rooms, Amba Hotel Charing Cross has more than double the number of rooms of any other hotel in the top 10, showing that it can deliver the personalised service offered by the boutique hotels that dominate the TripAdvisor top 10, at scale.

The new 4-star hotel offering was developed after extensive research with global customers and combines friendly, knowledgeable staff with an amazing location and the fastest, free, unlimited WiFi in an international meetings and events hotel.
The hotel's General Manager, Glenn Hallam, said; "We pride ourselves on offering our guests those little touches that make their stay special; whether that's complimentary drinks on arrival or helping arrange a last-minute birthday celebration, so it's wonderful to read the TripAdvisor reviews and see all the team's hard work paying off."

Belinda Atkins, CEO of Amba Hotels said: "In an industry first, we partnered with a product development agency more normally associated with car design to help create bedrooms and spaces built around traveller's needs, so it's great to see that guests love our approach."

The second Amba Hotel will open in Marble Arch in the second half of 2015 and will offer the same blend of location, seamless technology and personalised service as its Charing Cross counterpart.
In addition, Amba Hotel Charing Cross has been nominated for World's Leading Smart Luxury Hotel. We're delighted to be in the running for this prestigious award. And we won't deny it, we'd love to win. Guest satisfaction is the main reward for the passion and dedication of everyone in the Amba Hotels team. However, this prestigious accolade would be a strong endorsement of our commitment to delivering a superb experience for everyone who stays with us.
THE TOWER HOTEL RE-OPENS IT'S NEWLY TRANSFORMED RIVERSIDE POP-UP BAR "THE LAWN"
Located at the foot of the iconic Tower Bridge, The Lawn is a quirky outdoor pop up bar with informal seating, deck chairs and garden games. Themed on the Great British summer and serving freshly prepared street food featuring dishes such as fish and chips and quality beef burgers, The Lawn really does offer the very best of Britain in a unique outdoor setting.

To complement the theme, The Tower Hotel has partnered with the Chapel Down Winery this year to serve a variety of Chapel Down wines and their Curious Brew Lagers along with a signature cocktail.
With its brand new bar serving cocktails, ice-cold beers and the best of British street food, The Lawn is the perfect riverside venue to soak up the sunshine this summer.

The Lawn is open daily from midday (weather permitting) and can be booked for exclusive hire including food and drinks from only £50.00 per person.
glh ANNOUNCES THISTLE EXPRESS
glh announced Thistle Express, the next generation of hotel from Thistle.
Thistle Express is a new value hotel concept, with the first site due to open in London in 2016. The new hotel brand will offer modern design, stylish bedrooms, friendly and efficient service, as well as super-fast unlimited free Wi-Fi for everyone – all at great value.

Mike DeNoma, CEO, glh, says: "You can no longer divide the market into travellers who only stay in economy hotels, versus those who stick to four or five star luxury. Thistle Express is a brand that caters for the modern traveller. Research told us that fast, free Wi-Fi is not just a luxury for luxury hotel guests, but is an expectation for economy hotel guests too. It's about offering guests what they want, at that moment in time, for that specific stay."

Thistle is a top UK hotel brand, highly recognised as offering value. glh will leverage this strong brand equity in its exciting new Thistle Express proposition.
glh's determination to shake up the hotel industry has already seen it innovate in the four star sector with the limited feature every hotels brand and it is now turning its attention to the economy sector.

"Economy lodging accounts for 38% of all branded hotel rooms in the UK having added 70,000 rooms over the past 10 years. Its position will be sustained because its prime markets, domestic and foreign short-stay leisure demand, will continue to be the fastest growing sources of UK hotel demand." according to Paul Slattery, Director of OTUS & Co a specialist hospitality finance and strategy advisors.

glh's commitment to ongoing research has driven the development of Thistle Express and over the next 12 months further insight and feedback will continue to inform the brand proposition.
Features include:
Thistle Express will challenge the economy sector by offering the fastest free Wi-Fi in the sector.
Simple and efficient booking and a Choose Your Own Room service letting guests select their room before arriving
Knowledgeable staff, on hand to help at all times; everything from advice on using technology in the hotel, to what's on in the local area
Smart, modern bedrooms and bathrooms offering high quality comfort and smart TV's
glh has already created two new disruptive brands in the four star sector: Amba Hotel Charing Cross is now at number four on Trip Advisor (out of 1060 hotels in London), and every hotel Piccadilly is already in the top 50 and also quickly moving up the rankings. glh will now take these expertise into the economy sector with Thistle Express.

The first Thistle Express will open in London in 2016 and the ambition is to open a further ten hotels over the next five years.