Basingstoke New Hotel Opening!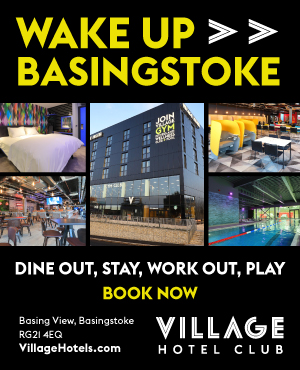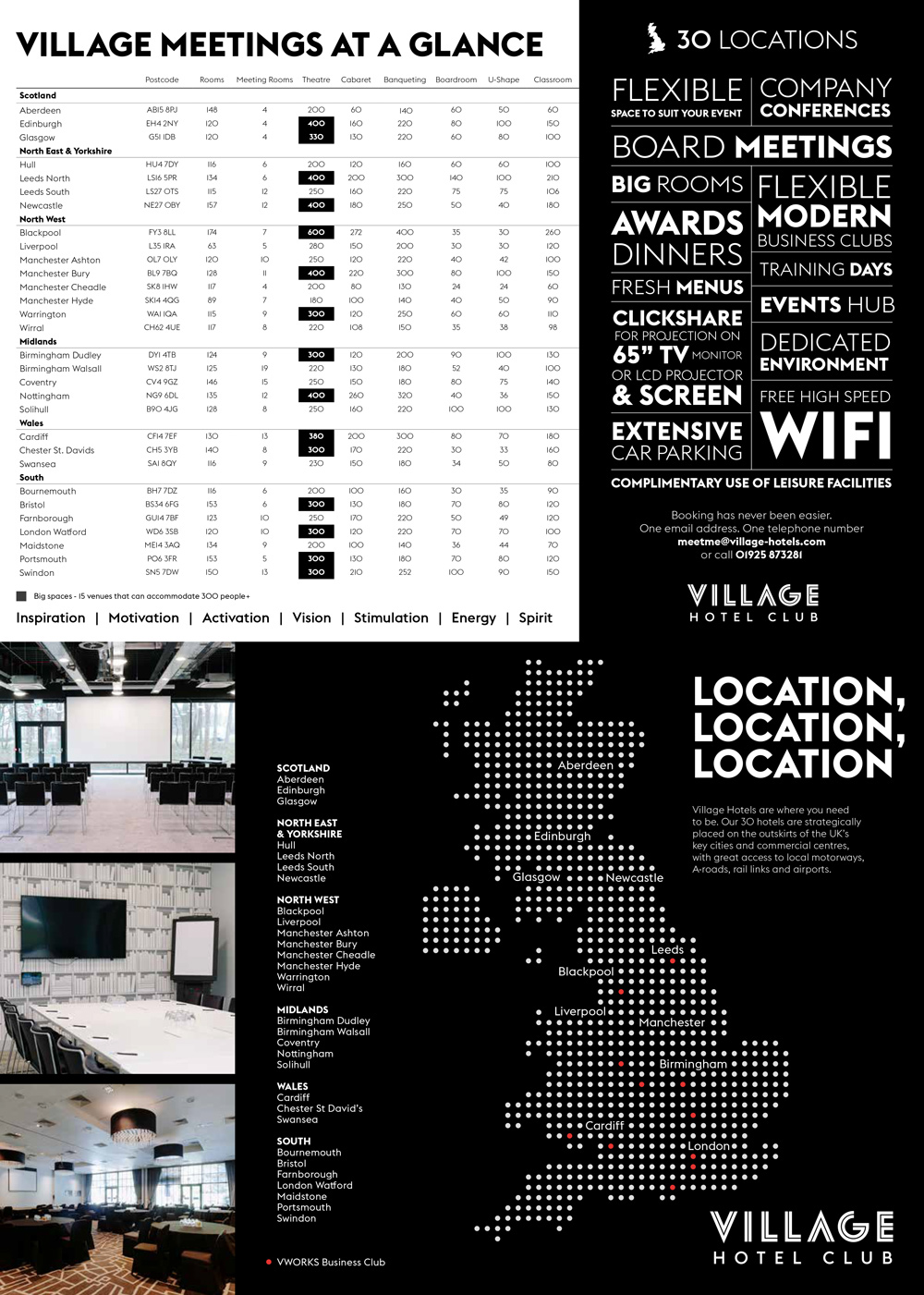 Village Hotel Club investment continues - new Pub & Grill restaurant concept at 19 hotels and VWORKS business club now at 13 hotels
Join us in our Pub & Grill for a new style of dining, enjoy a selection of tasty food and an array of drinks served all day from 10am - 10pm.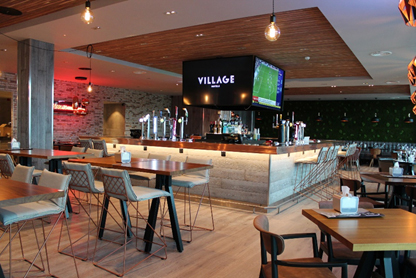 The restaurant concept is now available in 19 hotel locations - a combined open plan pub & grill that offers an all-day dining experience to complement their existing Starbucks coffee shop. Each pub & grill opens with a new menu offering a variety of tasty dishes including juicy burgers, skewers, steaks, fish 'n' chips, club sandwiches, wraps and more. Or why not try one of our lighter Club dishes, all under 500 calories.
Open locations are Village Bristol, Birmingham Dudley, Birmingham Walsall, Cardiff, Coventry, Chester St. David's, Farnborough, Leeds North, Leeds South, London Elstree, Manchester Ashton, Manchester Bury, Maidstone, Portsmouth, Solihull, Wirral, Warrington, Nottingham and Newcastle.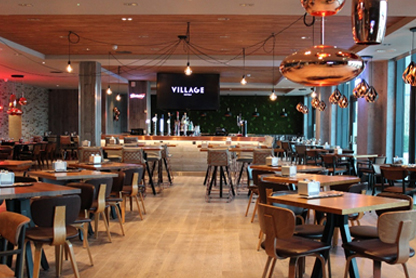 Our forward thinking business club concept, VWORKS, roll out continues. Our 13th business club is now open. Additional benefits of the business clubs are: pay for access on the day, meeting room pods available from £30 per hour with unlimited refreshments, unlimited hot refreshments, Still and Sparkling water on tap, free printing, free car parking and Super-Fast free Wi-Fi.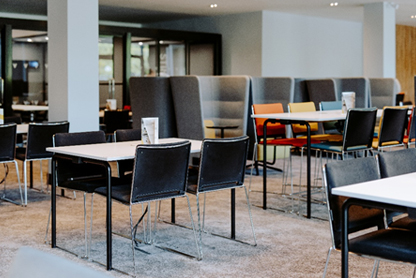 Book one of our club rooms for your clients and they get access to VWORKS from 7am on their day of arrival to 5pm on their day of departure – great value!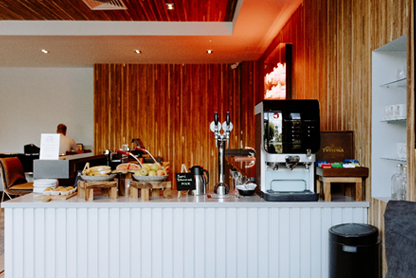 VWORKS is now open at Cardiff, Farnborough, London Watford, Manchester Ashton, Portsmouth, Solihull, Leeds South, Coventry, Birmingham Walsall, Bristol, Maidstone, Manchester Bury and Wirral. Warrington and Nottingham both open in April 2019 with Birmingham Dudley and Leeds North opening in May 2019.
Opening 6th November 2017, launching into Portsmouth, your new Village Hotel will offer more than just a bed for the night.
Inside the black box you'll discover 153 stylish & comfy rooms with huge TVs, great showers and big beds. A Village Pub serving our signature buckets of wings, burger stacks and cool beers, Village Grill Restaurant and a Starbucks coffee shop.
A Business Club where you can meet, greet, surf and work using our free Wifi and an extensive events suite where you can dance all night at a Tribute Tour, hold a private function or even tie the knot.
Village Hotel Portsmouth has 6 fully air-conditioned meeting rooms and can accommodate up to 300 people in our Inspiration Suite. We are perfect for boardroom meetings, company conferences, banqueting, training, team building, exhibitions or recruitment events.
Our ClickShare technology features throughout – 3 easy steps to wire free presenting on our large TV monitors & screens. Connect, Click, Share.
Our Club rooms will feature huge 55" TV's, big rainfall shower, luxury feather filled bedding, in room SKY Movies & Sport, Tassimo coffee machine, ESPA toiletries "Ask Alexa" Amazon Dot Technology, Chromecast technology to allow you to stream your favourite music from your mobile device on the TV, free access to the Village Gym and free access to our Business Club.
You'll also find a Village Gym with state-of-the-art equipment, 45 bikes in 'The Trip' immersive spin studio & over 100 fitness classes per week. If you enjoy swimming, we have a large 20m swimming pool and when its time to relax, a steam room and sauna completes the mix.
Located at junction 12 off the M27, Village Portsmouth is 5 miles from Portsmouth Harbour mainline station, 1.2 miles from Cosham train station and 18 miles from Southampton airport.
Dine out, stay. Work out, play.

3 easy steps to wireless presenting on our new 65 inch TV monitors
Available now in all Village meeting rooms
Instant, Simple, Interactive
NO WIRES
ClickShare's universal USB-powered Button avoids the unslightly jumble of cables. It requires no special adaptor or port and with no cables, you will spend less time setting up and more time being productive.
NO SOFTWARE
When you plug in the ClickShare button, there's no software to download and install. You simply accept an executable file and you're ready to go. Once finished, ClickShare leaves no software on your PC or Mac.
SIMPLICITY
ClickShare couldn't be simpler. Everything works with the tap of a button. Connecting ClickShare does not alter your screen size or resolution so what you see on your laptop screen is replicated onto our new 65 inch TV monitors.
CROSS DEVICES
Whether you present from a PC or Mac, ClickShare has it covered – you just need to check that your USB and/or HDMI port has not been disabled by your IT department on your company laptop.
INTUITIVE
One tap of the ClickShare button now gives you the quickest and most efficient way to access our meeting room screens.
ClickShare now available in all Village meeting rooms and is included in your daily delegate or 24 hour rate.
Bringing people, content and ideas together.
CONNECT, CLICK, SHARE
A new-look Village Hotel Club in 2016
Village The Hotel Club have announced details of a £35m investment plan that incorporates significant refurbishment plans & new technology starting with 8 of their key UK locations & more to follow.
The first locations are:
London Watford Coventry Manchester Cheadle Manchester Bury Warrington
Cardiff Maidstone and Bournemouth
To start, they are fully refurbishing all the bedrooms & bathrooms and both will have a new feature 'stripe' wall & new mattresses. Additionally, new 48' wall mounted TV's with their UpperDeck rooms featuring a 55' inch wall mounted TV with Sky and Bluetooth sound bar.
All bedroom corridors will be refurbished and following that, investment in the health & fitness clubs, their pubs The Public House, restaurants and conference & meetings rooms is planned. They are on track for completion by the end of April 2016.


For their meeting and conference rooms, February sees the start of the installation of "click-share" wireless connectivity to TV's and projectors, plus new 65' TV's in meeting rooms and new projectors in larger conference rooms. By the end of April 2016, all conference and meeting areas will have had a complete refurbishment in the 8 locations. Plans are also in place to then continue the meeting room refurbishment programme to the rest of the brand.
Village Glasgow's guests have been giving great feedback on the new self service check in facility that was launched when the hotel opened in Summer 2015. Each kiosk, of which there are 4, allows you to search for your reservation by surname, allocates a room and issues you with a key. Their lobby hosts are on hand for any questions or any assistance required – shifting their focus from the computer screen to the customer.


Based on their success in Glasgow, on completion of the refurbishment to the current 8 locations, self service check in will be available. The remainder of the hotels will all have self service check in by December 2016.
Village has also recognised that good WiFi is becoming a non-negotiable requirement when travelling on business or leisure and will have completed a wifi upgrade to all 28 of their UK locations by the end of March 2016 improving coverage and speed. Village continue to offer this free of charge to unlimited devices in each hotel.
It is looking to be an exciting year ahead for Village as they continue their refurbishment, investment and development.